Bob Fitrakis


November 24, 2009


Colonel Muammar al-Gathafi lives in a really big air-conditioned tent with cushy rugs and incredible chandeliers. How do I know? I visited the tent on the 40th anniversary of the Libyan revolution, when a 27-year-old al-Gathafi overthrew the Libya government, Che Guavera-style (his hero).
The controversial Libyan leader, who helped train and fund insurgent groups all over the world, now wants to compete in the marketplace of ideas — and he and his supporters think his Green Book may offer a new perspective. One Green Book idea: every citizen is entitled to one mortgage-free house, or tent. That's the way it is for 5.5 million Libyan citizens.
Following al-Gathafi's recent trip to the United States, where he spoke for an hour and a half at the United Nations — questioning the assassinations of Kennedy and King — former U.S. Congresswoman organized a delegation to visit Libya and attend the First International Conference of the Green Book Supporters Society.
After a 9-hour flight to Frankfurt, Germany and a 3-hour hop to the shores of Tripoli, I arrived Thursday morning, October 22, greeted by Society supporters at the airport. The 11-member U.S. delegation was whisked off to the Bab-Al Bahre Hotel to mingle with hundreds of representatives from around the world.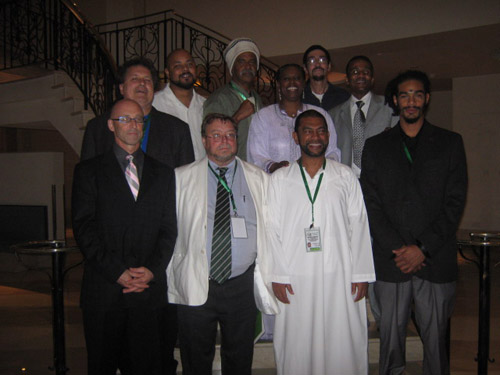 But many Green Book supporters were shocked to see an U.S. delegation. We were the first of any note since President Ronald Reagan attempted to assassinate al-Gathafi with F-16 fighter jets in 1986, instead killing his 5-year-old adopted daughter. United States sanctions against Libya were lifted in 2004 and in 2006 the U.S. removed the country from the State Sponsors of Terrorism list, but the U.S. has been slow to engage with al-Gathafi. In the meantime, the countries of Africa voted him the President of the African Union and businessmen from China, Japan, South Korea, and Russia have flooded the scenic Mediterranean port city of Tripoli. Construction cranes are everywhere and 2000 miles of undeveloped and unpolluted Mediterranean coastline beckon.
Initially I thought I was in Libya as a reporter, although I began to get suspicious of what was written on my nametag when delegate after delegate asked me for my analysis of President Barack Obama and what was happening in U.S. politics, post-Bush. On Thursday and Friday I worked with the U.S. delegates in drafting a statement of friendship to be read at the conference. It ended: "We know that a better world is possible. We are here to build it in solidarity with each and every one of you, and with our brothers and sisters around the world."
My thoughts were that if Richard Nixon could embrace Chairman Mao and his Red Book supporters, we can dialogue with al-Gathafi. After all, as the Colonel likes to point out, he was the first man to send out a warrant through Interpol to arrest the terrorist bin Laden.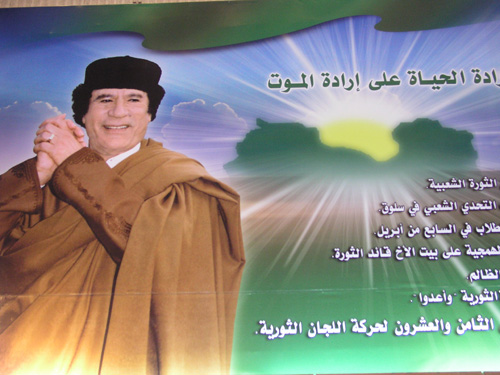 Journalist Wayne Madsen and I wandered through the old walled city of Tripoli, run-down and hard hit by the U.S. sanctions yet currently being renovated in anticipation of a flourishing tourist trade. Libya is in the process of building the largest airport on the African continent and expects it to be a destination for people from all nations. While we were warned that we shouldn't be there without an interpreter or guide, we felt safe strolling through the incredible ancient fortress.
Four of us shopped in Tripoli's central market. Sadly, I found it virtually impossible to buy any authentic Arab wear. Most of the clothes being sold were knock-offs of U.S. styles with names like "Calvin Place," manufactured in China or Cambodia. Also the ubiquitous satellite dishes offered four English-speaking channels: the BBC, CNN, Fox's Action Movies, and another U.S. action-adventure channel. I wondered about the wisdom of showering the Libyan people with movies like Mission: Impossible and Rambo Part III.
On Sunday, the conference of 400 or so participants convened. Oddly, a conference organizer ushered me into the first row of VIP-reserved seats, right in front of the Secretary General. I wasn't sure why. Unexpectedly, the U.S. delegation interpreter asked me to read the Society's founding charter. Puzzled, I asked why. He replied, "You are the head of the U.S. delegation." How did I become the head? "Your badge says so," he told me. In some ways, I figure I'm at fault for not taking basic Arabic in college. Apparently with Congresswoman McKinney representing the North American continent, I somehow became the leader of the U.S. delegation.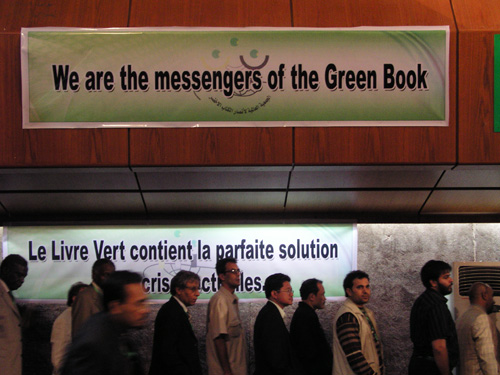 It could have been worse. I could have been asked to play ping pong a la China in the '70s. During the introduction, I managed to catch the phrase "Green Party Governor Ohio." Al-Gathafi's Party is also called the Green Party. I hope there wasn't some confusion here between the ruling party of Libya and the tattered remnants of aging environmentalists who gave me 1% of the vote in the 2006 election. After giving the speech before a sea of TV cameras, and only occasionally stumbling over the word Jamahiriya (Republic), I improvised by ending with the slogan "All power to the people, all power to the People's Congress!"
Suddenly they postponed the conference on Sunday and Abdurahmane, our interpreter, told us we were going to meet a special guest. Conference members boarded buses and headed along the seashore highway in Tripoli. The bus pulled into a military compound and we were ushered through heavy security. What else could it be — we were destined to sit in al-Gathafi's big tent.
I never thought I'd be hanging out in his tent, in a compound with a shrine dedicated to his dead daughter. Once again, I found myself in the front row next to Congresswoman McKinney. Behind me, a man called my name "Ro-bert." He began "I wrote the statement you gave yesterday. It was the Great Leader's idea that someone from America should read the speech. You did well but you improvised a little." I wasn't sure if that was good or bad.
Finally, the Colonel came in and we observed a moment of silence for the thousands of Libyans kidnapped and relocated by Italian occupational forces on that day in October 1911. Al-Gathafi spoke for more than an hour. His speech's theme was clear — corporate capitalism was failing in the West and the Green Book's version of socialism offered an alternative.
He stressed over and over again that people should actually read his Green Book and not listen to Western propaganda about it. He emphasized that true democracy must be rooted in the religious and cultural traditions particular to each society. He specifically cited the Torah, the Bible, and the Koran as sources for law and democracy. His voice was strong and he spoke slowly. It is clearly legacy time for the aging leader of both Pan-Arab and Pan-African unity.
Why must there be People's Congresses: "The rich create the Parliament, they own the press." Denouncing the rich, he stated, "They have a right to steal, you have the right to protest." Al-Gathafi commented specifically on the United States: "The wealth of society is the property of all Americans and should be distributed that way."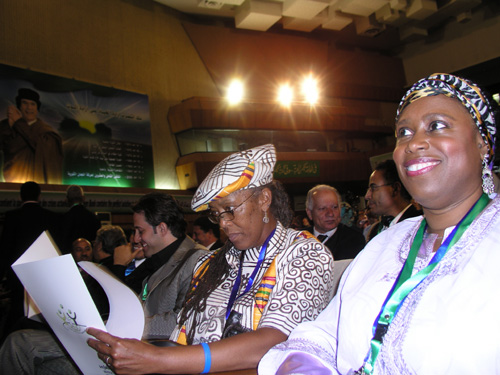 In our current climate of economic collapse, the ideas in al-Gathafi's Green Book may make sense to some. Yet, it seems implausible that the great vilified enemy of the U.S. will rise from the ashes of near assassination to influence U.S. politics. Still, who knows? It is intriguing that a robed, revolutionary Bedouin living in a tent in Tripoli seemed to have a more realistic assessment of the U.S. economy and democracy than most of our own elected officials. Next time, let's let him set up his tent in New Jersey or New York City and maybe a few more people could dialogue.


Original Article Published At:
https://freepress.org/columns/display/3/2009/1788
https://fitrakis.org/wp-content/uploads/2017/01/fitrakisprocedit_340-3-300x78.png
0
0
Fitrakis
https://fitrakis.org/wp-content/uploads/2017/01/fitrakisprocedit_340-3-300x78.png
Fitrakis
2009-11-25 14:43:48
2009-11-25 14:43:48
Al-Gathafi's Big Tent