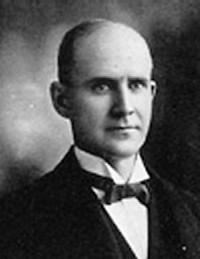 Bob's role model is Eugene Victor Debs, the man responsible for leading one of America's first industrial unions: the American Railway Union in the 1890s; an avid anti-war activist who was jailed for saying the rich have always called for war and the poor have always fought and died in them; and a five-time candidate for President with the Socialist Party, receiving more than a million votes while he was in prison in 1920. Debs is also known for the quote, which embodies Bob's philosophy: "while there is a lower class, I am in it, and while there is a criminal element I am of it, and while there is a soul in prison, I am not free."

Bob was politically active in his college years as a Ford Foundation Fellow working in the Michigan State legislature. He was a member of the Human Rights Party in Michigan, founded by Zolton Ferency and worked with activists like Michael Moore. He also was a founder of the Democratic Socialist caucus in the Michigan Democratic Party in the late 70s and early 80s. He was one of the founding members of the Democratic Socialists of America. He founded the group Democratic Socialists of Central Ohio (DSCO) in 1988, served on the National Political Committee of DSA in the mid-1990s, and remains a member.

Bob helped manage the successful campaigns of Democrats Mary Jo Kilroy for Columbus School Board and Anne Taylor for Judge in 1991. He was a Democratic candidate for Congress in the 12th district in 1992, running against incumbent John Kasich. Bob was a Jerry Brown delegate to the 1992 National Democratic Convention and represented Brown at the platform hearings in Washington DC that year, opposing Clinton for his support of NAFTA and the death penalty. He also served on the Franklin County Democratic Central Committee under Chair Fran Ryan and was the elected 55th ward person from 1996-2000.

In 2003, Bob ran as a Green Party endorsed candidate for Columbus City Council in the primary and narrowly missed advancing to the general election. Bob with his good friend Bill Moss ran as endorsed Greens for Columbus School Board against a united slate of Democratic and Republican candidates to barely defeat them in the primary.

Bob ran for Governor of Ohio in 2006, where he was able to expose the election fraud activities of his Republican opponent the Ohio Secretary of State J. Kenneth Blackwell. In 2008 he was a delegate to National Green Party convention. Bob served as a Central Committee member for the Green Party of Franklin County and State of Ohio from 2010 to 2017 and served as co-Chair of the State of Ohio with Anita Rios. He serves as a Near East Area Commissioner in Columbus since 2003.

https://fitrakis.org/wp-content/uploads/2017/01/fitrakisprocedit_340-3-300x78.png
0
0
Fitrakis
https://fitrakis.org/wp-content/uploads/2017/01/fitrakisprocedit_340-3-300x78.png
Fitrakis
2012-03-20 21:25:00
2020-05-12 22:48:52
POLITICS