Is the 2016 election already being stripped & flipped?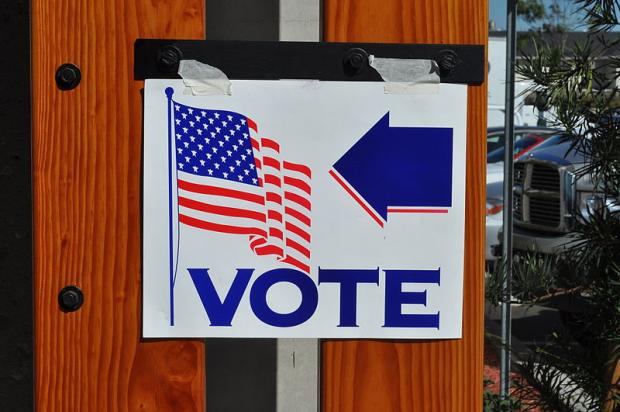 Disturbing signs of the time-tested "Strip and Flip" strategy for stealing elections have already surfaced in 2016. Will they ultimately decide the outcome, as they have in too many recent elections?
The core approach is to STRIP citizens of their voting rights, then FLIP the electronic vote count if that's not enough to guarantee a win for the corporate 1%.
Historically, "stripping" has been based on race. It's rooted in the divide-and-conquer strategies of slavery and Jim Crow segregation. Today it centers on racist demands for photo ID and other scams designed to prevent blacks, Hispanics, the young and the poor from voting.
"Flipping" is related to electronic voting machines, on which the vast majority of Americans will vote this fall. Nearly all these machines were bought with money from the 2002 Help America Vote Act, which came after the theft of the 2000 presidential election. Virtually all these machines are 10 years old or more, and can easily be hacked. Swing states Florida, North Carolina, Ohio, Michigan, Iowa and Arizona, among others, have GOP governors and, except for Florida, secretaries of state who can easily flip the vote count once they are cast, without accountability or detection. Also, private partisan voting machine companies have unlimited access to the electronic poll books, voting machines and central tabulators.
Those who dismiss such warnings as "conspiracy theory" might confront this simple question: "How will the electronic vote count in the 2016 election be verified?"
The answer is simple: "It can't be." The vote count in 2016 for the offices of President, US Congress, governorships, state legislatures, county commissioners, dog catchers and thousands of others will come through electronic black boxes. The veracity of the outcomes will vary from state to state based on the whims and interests of those in charge of the electronic tallies.
In the meantime, we have already seen deeply disturbing signs of the "strip and flip" scam in the 2016 primaries. All, of course, have been to the detriment of the Bernie Sanders campaign:
·         Despite the claim that Hillary Clinton, "won" the Iowa and Nevada caucuses, there's clear evidence Bernie was the rightful winner in both states. In Iowa Clinton's "victory" apparently turned on six coin tosses, all of which she allegedly won.
·         There's clear evidence that Bernie actually won the Massachusetts primary, which the corporate media and official vote count gave to Hillary. Analyst Richard Charnin has examined pre-election polls and post-election exit polls, both showing Bernie substantially ahead of Clinton prior to the voting. In a phenomenon we have seen elsewhere (most notably as George W. Bush "beat" John Kerry in New Mexico 2004), Bernie won all the precincts with hand-counted paper ballots but lost all the ones with electronic voting machines. Exit polls significantly "outside the statistical margin of error" are the international gold standard for determining election fraud. If the U.S. held the same standards as the European Union, the Clinton campaign would be investigated for election fraud not only in the Massachusetts primary but also in Missouri, Illinois and Ohio primaries.
·         In Arizona we saw a re-run of Ohio 2004, where left-leaning Democratic urban areas were stripped of precincts and short-changed on voting machines and back-up paper ballots, resulting in long lines and thousands of citizens being deprived of their vote. African-Americans in Cleveland, Columbus, Toledo, Dayton and Cincinnati waited up to seven hours and more to vote in 2004, causing mass disenfranchisement that helped give Bush Ohio and a second term in the White House. In Arizona this year, thousands of citizens were also robbed of their vote due to the elimination of precincts, machine shortages and the failure to provide back-up paper ballots. Many were handed provisional ballots which regularly are discarded and never counted. It is quite likely that with reasonable access to voting, Bernie would have won the Arizona primary.
A wide range of irregularities in other states have also dogged this primary season. They could well be the determining factor in who gets the nomination in both major parties.
A recent study by Harvard and the University of Sydney, Australia found that the United States had the "worst elections of any long-established democracy." The U.S. ranked 47th out of the 47 long-term democratic nations.
Something serious must be done. Without radical action, these carefully engineered precinct eliminations, ballot and machine shortages, mass disenfranchisements and too much more will not only determine who wins the presidency this fall, but also who controls the Congress, numerous governorships and state legislatures and the whole gamut of elective offices around the country.
In the long run, only universal automatic voter registration, a four-day national holiday for voting, universal hand-counted paper ballots and other reforms will guarantee us a fair and reliable vote count. Posted at www.freepress.org, we call it the "Ohio Plan."
But none of that will be in place this fall. In our coming articles, and in two weeks with our book THE STRIP AND FLIP SELECTION OF 2016, we will discuss what we can do in the interim.
————————
Bob Fitrakis & Harvey Wasserman have co-authored six books on election protection, including the upcoming power point compendium THE STRIP & FLIP SELECTION OF 2016: FIVE JIM CROWS AND ELECTRONIC ELECTION THEFT. Bob's FITRAKIS FILES are at www.freepress.org. Harvey's AMERICA AT THE BRINK OF REBIRTH: THE ORGANIC SPIRAL OF US HISTORY will be published soon via www.solartopia.org. 
https://fitrakis.org/wp-content/uploads/2016/08/800px-Voting_United_States.jpg
412
620
Fitrakis
https://fitrakis.org/wp-content/uploads/2017/01/fitrakisprocedit_340-3-300x78.png
Fitrakis
2016-08-26 23:17:11
2016-08-26 23:57:52
Is the 2016 election already being stripped & flipped?