Bob Fitrakis Columbus Alive 1996-2002 Article Archives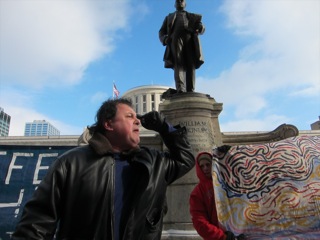 On a Mac: CTRL+Click and choose the best option (like download or Save) depending on the object your clicked.
On a PC right click and select "save link as"
These are in .doc format.
Here is the Complete Archive of Columbus Alive Bob Fitrakis articles for 1996 in Word Format
1998
1998 first page missing (01/07/1998)
1999
The following article Date and Titles are considered "The V-Files"
7/03/1996
Family values (Voinovich/Mifsud)
7/10/1996
Tommy takes the town (Voinovich)
7/10/1996
Building relationships (Voinovich)
7/17/1996
Clap if you believe (Voinovich/Banks)
7/31/1996
The governor…and the mob?
8/07/1996
Out of the frying pan (Voinovich)
8/21/1996
Uh oh Umberto (Voinovich/Turnpike)
8/27/1996
Umberto's inner-belt blues (Voinovich)
A whiff of Y-Town (Mifsud)
9/04/1996
The high price of bucking the system (Voinovich)
9/16/1996
Who's Farah Majidzadeh? (Voinovich pay-to-play)
10/23/1996
Deja V (Voinovich)
11/20/1996
With friends like these… (Voinovich)
01/22/1997
Last of the big spenders (Voinovich)
03/12/1997
Retro viruses (Mifsud)
07/23/1997
Banks goes a-courtin' (Voinovich)
09/10/1997
Raking muck (Voinovich)
10/08/1997
Jailhouse crock (Voinovich)
10/15/1997
Jail sentencing not a problem (Banks/Voinovich)
10/22/1997
Coverage of V Group raises important questions
11/05/1997
Dewey's decimals (jail/Voinovich)
11/12/1997
Voinovich jail fiasco grows
11/19/1997
Stumping (Taft campaign/Voinovich jail/Betty's boop)
11/26/1997
Judge lets Banks off
01/21/1998
V Company blackout
2/25/1998
Stern stuff for the V Group
6/12/1998
Bits and pieces (Mifsud)
9/24/1998
The real Voinovich legacy
11/12/1998
Inside the V Group's pattern of alleged laundering and contract steering
11/19/1998
Law and order (Voinovich)
11/26/1998
Gunslinger (voinovich)
03/04/1999
The good, the bad and the ugly (Voinovich)
4/08/1999
The V report
07/01/1999
Inside the Voinovich campaign financing report
8/12/1999
Dispatch rests while the V Group says it's not the V Group
10/21/1999
Afraid to ask (Teater/Voinovich jail construction)
12/23/1999
The V Group dragnet narrows
1/27/2000
Oh Lord, don't let Pauly be misunderstood (Voinovich)
07/22/2000
Holy roller (Voinovich as Bush VP)
11/02/2000
Dispatch buries V report
11/30/2000
You gotta have faith (Knights of Malta)
2/04/1998
Are the Hamiltons using the Bureau of Workers Compensation?
2/18/1998
Just the Facts, Jim (BWC)
4/08/1998
BWC under fire
5/14/1998
Mum's the word at the State Employment Relations Board
06/25/1998
Whatever happened to Dale Hamilton?
12/28/2000
Clean air villain (Voinovich in Senate)
https://fitrakis.org/wp-content/uploads/IMG_1108-11.jpg
240
320
Fitrakis
https://fitrakis.org/wp-content/uploads/2017/01/fitrakisprocedit_340-3-300x78.png
Fitrakis
2015-07-08 21:49:09
2022-03-26 23:31:32
Bob Fitrakis Columbus Alive 1996-2002 Article Archives