Bob Bytes Back Archive: Nader for President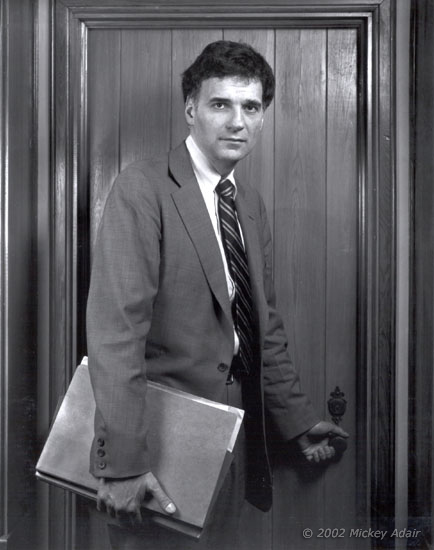 4/03/1996
by Bob Fitrakis
You're in the booth this fall. You scan the names for President: Clinton, Dole, Nader, Buchanan, Perot. For the first time, instead of voting for the mainstream, we may have the choice of the radical left, right and center respectively.
Nader's already on the ballot in California and the Northeast Ohio Greens are pledging to put him on the Ohio ballot as an Independent. Perot is hinting he wants to run, mostly by shouting to anyone who'll listen: "Draft me!" Whether or not Buchanan ends up on the ballot depends on how much Dole dumps on him at the Republican convention in August. Pre-existing right-wing parties with ballot status like the U.S. Taxpayers Party could provide safe haven for the routed Buchanan Brigades and the troops necessary to get him on the ballot and turn out the vote.
If Clinton runs to the center with nothing new to say this campaign season, many progressive Democrats like myself will have little trouble pulling the lever for perhaps the most principled man in American public life–our beloved Ralphie. Sure, we understand that Newt Gingrich recently led the "barbarians to the gate," but his social Darwinism and his George Wallace with a Ph.D schtick seems like a spent political force. If Dole runs as a centrist also, it won't matter that much whether Bill or Bob is the Presidential caretaker. As corporations continue to downsize, rightsize, riff, pink slip and write off U.S. workers, Bill will, no doubt, feel our pain more than Bob. But unless he proposes to do something about it, as Ralph, Pat and Ross surely will, there'll be a proverbial plethora of third party votes.
In mid-February, the Labor Department reported that median wages for fulltime male workers is almost nine percent less than it was in 1979. The New York Times points out that pay for top level corporate executives has "soared to nearly 200 times that of the average worker, compared with only 40 times that of the average worker two decades ago." The arrogance of the corporate elite in the global economy is now well established. Steven Roach, chief economist at Morgan Stanley predicted a "worker backlash" even before Buchanan rode the NAFTA issue to a shocking political upset in the New Hampshire GOP primary. NAFTA now stands as a metaphor for economic despair and anxiety. While it didn't start the trends toward lower wages, NAFTA sure as hell helped accelerate them. It's a manifestation of the greater problem of top-down corporate control and undemocratic dominance over our lives.
On January 1, 1994, when NAFTA–a truly strange and bizarre idea to merge the world's most advanced high-tech economy with a third world country–was implemented, what was then a small trade surplus with Mexico is now a $15 billion a year deficit. Clinton took a bundle of money from the notorious K Street international trading crowd–essentially Dole's donors–to push a conservative multi-national corporate pact that won more Republican than Democratic votes in the House. The President conveniently points to the European economic community as precedent. Yet he fails to mention that the European Common Market was put together over a couple of decades and it includes all first-world developed countries, a freely elected European Parliament as well as continental environmental and worker safety standards.
The NAFTA issue isn't going to go away. A recent poll shows that 55 percent of U.S. citizens now regard NAFTA as a bad deal. In fact, anti-NAFTA sentiment is what's creating the openings for Nader, Perot and Buchanan in presidential politics this year. It is vitally important to understand why each is opposed to the pact that both Clinton and Dole promote.
Loss of the U.S. manufacturing base is why Perot's followers, despite the failure of his Reform Party to gather enough signatures, are motivated and most likely to place his name on the Ohio ballot as an Independent come August. His being a wacky and semi-paranoid billionaire aside, Perot, while on the Board of General Motors, consistently fought to keep auto manufacturing in the United States. Perot upholds the tradition of Henry Ford. Fordism, while not in and of itself progressive, argued that a stable middle-class society can only be achieved by paying stable middle-class wages. Perot is not overly concerned with the human rights abuses or ecological disaster associated with NAFTA.
Nationalist and isolationist voters, prone to Buchanan's appeal, are driven by anti-immigrant hysteria and job loss. This "Fortress America" national front sees not the exploitation of U.S. and Mexican workers and environmental degradation, but hordes of little brown people swarming our territory and taking our jobs. They need to realize that what we call the southwest United States was formerly the northern half of Mexico prior to the Mexican-American War. And the real enemy are those in the corporate boardrooms who are equal opportunity debasers and degraders of workers and the environment. It's not likely that a "Know-Nothing" coalition uniting xenophobe and homophobe is the future of U.S. populism.
Nader, on the other hand, will show real compassion, not only for the nearly one million estimated U.S. workers who have lost their jobs due to NAFTA, but for the even more unfortunate Mexican workers being mercilessly exploited by U.S. corporations in the sweatshops known as the maquilladoras. And he'll also eloquently speak out against the factories spewing toxins that know no border.
–Bob Fitrakis visited the maquilladoras in January 1993 and co-produced a video entitled The Other Side of Free Trade.
https://fitrakis.org/wp-content/uploads/2017/01/fitrakisprocedit_340-3-300x78.png
0
0
Fitrakis
https://fitrakis.org/wp-content/uploads/2017/01/fitrakisprocedit_340-3-300x78.png
Fitrakis
2007-11-03 15:03:59
2007-11-03 15:03:59
Bob Bytes Back Archive: Nader for President