What Happened in Ohio? A Documentary Record Of Theft And Fraud In The 2004 Election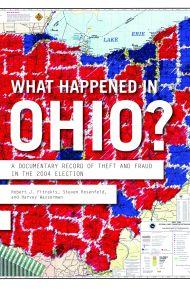 A Documentary Record of Theft and Fraud in the 2004 Election
Robert J. Fitrakis, Steven Rosenfeld, and Harvey Wasserman
An array of primary sources documenting the dishonesty and disenfranchisement that tipped the scales for George W. Bush in 2004.
It is my professional opinion that these numbers are fraudulent.
—STATISTICIAN RICHARD HAYES PHILLIPS, PHD, IN REFERENCE TO OHIO'S 2004 PRESIDENTIAL VOTE COUNT, FROM HIS DEPOSITION IN THE MOSS V. BUSH LAWSUIT, WHICH REACHED THE OHIO SUPREME COURT
In the first comprehensive look at the most critical state's voting process in the 2004 presidential election, three pathbreaking investigative journalists (one a member of the legal team that sued the state of Ohio for election fraud), compile documentary evidence of massive potential theft and fraud in the presidential vote—problems
that may have changed the outcome of the presidential election in Ohio, and thus the nation.    
What Happened in Ohio? includes trucking receipts that show voting machines were pulled back from minority districts; ballots that contain evidence of tampering; mathematical analysis demonstrating the statistical impossibility of voting totals; testimonials from hundreds of voters, campaign workers, and poll workers about conditions that effectively disenfranchised thousands of voters; copies of flyers instructing Democrats to "vote on Wednesday"; official letters sent to tens of thousands of longtime voters incorrectly informing them they had been deemed "inactive" and ineligible to vote; photos taken of the original exit poll data broadcast on election night before it was retroactively "corrected" by the networks; and much, much more.
For anyone suspicious of the Ohio vote, here's the evidence you've been waiting for.

Bob Fitrakis is a professor of political science at Columbus State Community College, a lawyer, and the executive director of the Columbus Institute for Contemporary Journalism. He lives in Columbus, Ohio. Steve Rosenfeld is a journalist and senior producer of The Laura Flanders Show on Air America. He lives in San Francisco. Harvey Wasserman is a senior editor and columnist for FreePress.org and the author of many books. He lives in Columbus, Ohio.
https://fitrakis.org/wp-content/uploads/2017/01/fitrakisprocedit_340-3-300x78.png
0
0
Fitrakis
https://fitrakis.org/wp-content/uploads/2017/01/fitrakisprocedit_340-3-300x78.png
Fitrakis
2006-11-02 05:46:57
2006-11-02 05:46:57
What Happened in Ohio? A Documentary Record Of Theft And Fraud In The 2004 Election