Unions And The Ballot Under Attack In Ohio
March 31, 2011
by Bob Fitrakis
Photos by Bob Studzinski

Jim Gilbert, President of the Fraternal Order of Police, Capital City Lodge 9, claims that the Republican Party's passing of Senate Bill 5 "has woken a sleeping giant." By a vote of 53-44, the Republican-dominated Ohio Assembly passed Senate Bill 5 on Wednesday, March 30 –- to drastically limit collective bargaining for 360,000 public union workers. The new law requires that no salary increases can be based on seniority, only on performance.
The Senate approved the final version by one vote – 17 to 16. Republican representative Louis Blessing told workers "Be glad you have a job."
Governor John Kasich signed the bill into law Thursday March 31. His press release stated "There is a reason that the union bosses opposed these changes; because it strips power from the union leaders and returns it to the taxpayers and workers."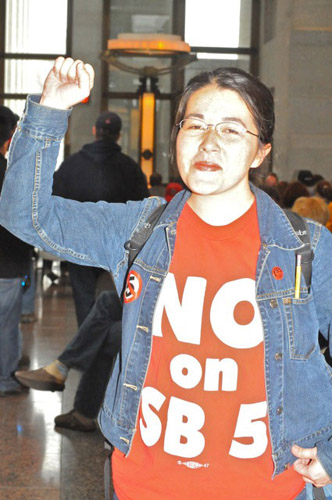 A better case can be made that Kasich has long plotted with wealthy corporate backers to destroy the base of the modern Democratic Party – the unions.
The legislation rammed through in Ohio amidst demonstrations unheard of since the Great Depression caused the normally staid Republican-owned Columbus Dispatch to write "Both the House and Senate worked through an almost unheard-of amount of applause, boos, and shouts of 'Shame on You!' from pro-union crowds that packed the chambers and made sure lawmakers understood the magnitude of their vote."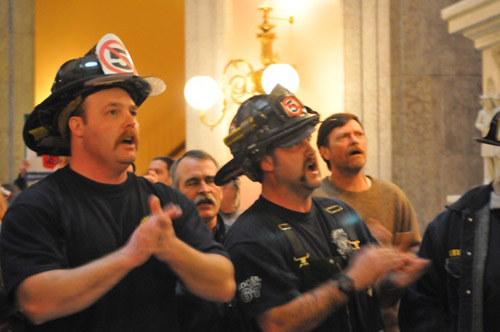 The legislation was prefabricated by the American Legislative Exchange Council (ALEC) which has a long affiliation with John Kasich. More then three decades ago, this corporate front masquerading as advocates of "limited government" and "free markets" began plotting to destroy the programs common in all modern industrial democracies.
ALEC's own history points to a meeting in September 1973 that included then-Illinois State Representative Henry Hyde, conservative activist Paul Weyrich, and Lou Barnett, an operative for then-Governor Ronald Reagan's presidential ambitions, these three created the Council. Reactionary and racist Senator Jesse Helms is also listed as one of the key founders of ALEC. ALEC's website states that "Among those who were involved with ALEC in the formative years were…John Kasich of Ohio."
ALEC exists to provide "model legislation" with one theme: How to transfer wealth to corporations while shrinking the size of government.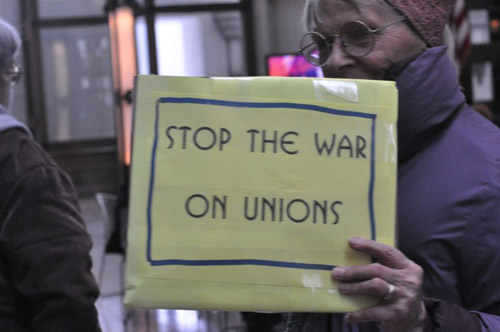 Kasich's press release announced that "The General Assembly passed Senate Bill 5 and local governments will now have more tools to control their budgets and provide better services to you at a lower cost."
ALEC is funded and works directly through a so-called Private Enterprise Board. Its members represent many of the largest multi-national corporations including Koch Industries, Coca-cola, Wal-Mart, AT&T, Johnson & Johnson, Pfizer, Exxon-Mobil, and State Farm insurance among others.
The focus on the Council legislative agenda and its "model legislations" read like manuals on how to destroy worker's rights under the guise of "saving taxpayers money."
Coincidentally, ALEC's spring Task Force Summit, where it will plot its next round of union-busting through legislative action will be held in Cincinnati April 28-29 at the Netherland Plaza Hotel.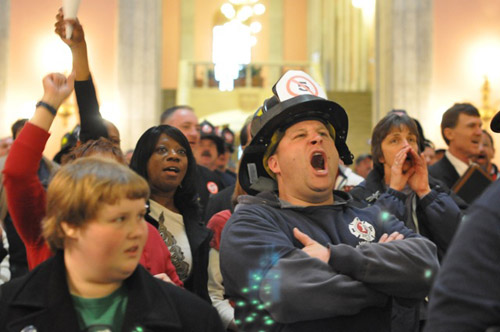 The point man for passage of SB5 in the House of Representatives is the House Speaker, Ohio's William Batchelder who has been identified as a member of the secretive Council for National Policy (CNP). The New York Times described the CNP as a "little-known group of a few hundred of the most powerful conservatives in the country." Weyrich is also a CNP member.
The Nation magazine wrote that the organization "networks wealthy right-wing donors together with top conservative operatives to plan long-term movement strategy."
The CNP website reads "Limited government, traditional values, strong national defense." ALEC also leads with "Limited government" and follows with "free markets, and federalism."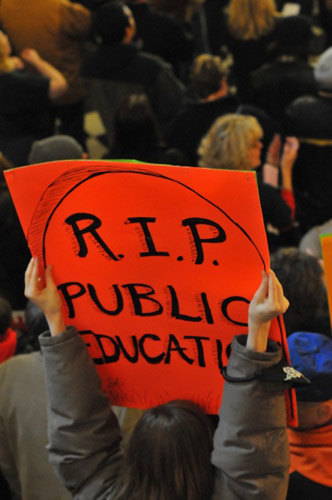 In order to ensure that their union-busting and their public power grab through legislative fiat sticks, the Ohio Republican House earlier pushed through House Bill 159 that will disenfranchise nearly 900,000 voters. House Bill 159 requires all voters to produce an Ohio driver's license with photo or state photo ID to vote. This is the most restrictive standard in the nation.
This legislation will overwhelming affect Democratic voters such as African Americans, the elderly, college students, the homeless and working poor – who are most likely to be without cars and driver's licenses. Critics of the legislation, including the ACLU point out that this constitutes an unconstitutional poll tax and have gone so far to accuse the Republicans of stealing the next statewide Ohio election.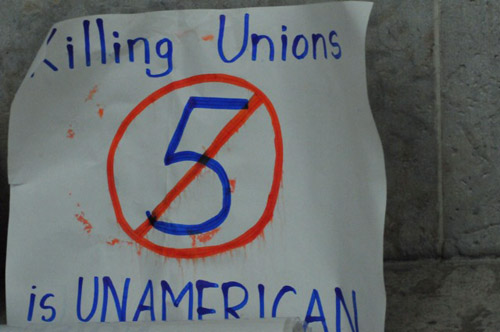 Even this drastic action by Ohio Republicans might not save them from the wrath of Ohio public unions and their private sector union allies in the next election. Police officers and firefighters have emerged as the most militant unions in defense of collective bargaining in Ohio and their leaders are pledging to work day and night to get the required 231,000 valid signatures of registered voters in order to freeze the bill pending a November referendum.
Unionists are also asking members and supporters to cancel their subscription to newspapers like the Columbus Dispatch that editorialized on behalf of Senate Bill 5. Boycotts are also being contemplated against the industries listed on the private enterprise board of ALEC.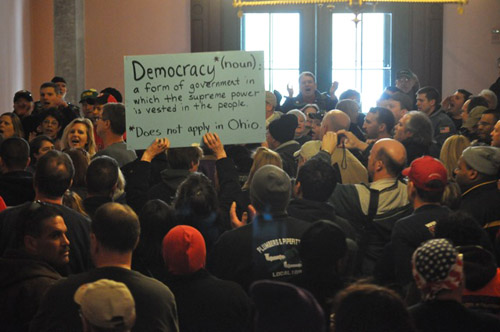 —
Bob Fitrakis is a Professor of Political Science at Columbus State Community College and member CSEA, the Columbus State Education Association. Originally published by The Free Press, https://freepress.org.
https://fitrakis.org/wp-content/uploads/2017/01/fitrakisprocedit_340-3-300x78.png
0
0
Fitrakis
https://fitrakis.org/wp-content/uploads/2017/01/fitrakisprocedit_340-3-300x78.png
Fitrakis
2011-04-03 18:54:51
2011-04-03 18:54:51
Unions And The Ballot Under Attack In Ohio