Back To The Caves With Kasich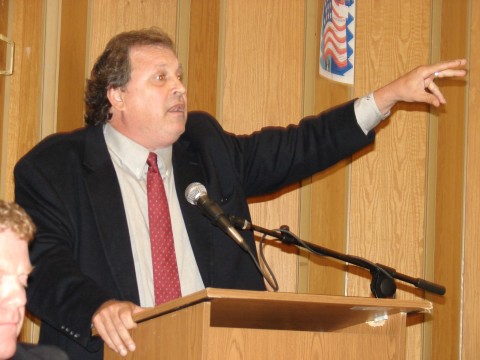 07-27-14
By Bob Fitrakis, Green candidate for Lt. Governor of Ohio
My good friend Harvey Wasserman calls it a "Solartopian Revolution." In the marketplace of energy technology, solar and wind have won.
One politician stands as the symbol of reaction against Ohio's sustainable energy future. His name is John Kasich, Governor of Ohio.
When he signed the infamous Senate Bill 310, freezing Ohio's renewable energy targets and standards, he signaled his preference for the Jurassic Era. He should have changed his re-election campaign slogan to "Back to the caves with Kasich."
What's his motivation? Kasich is addicted to Koch. That is, the Koch brothers. Six weeks prior to Kasich signing SB 310 into law, oil magnate David Koch donated $12,155 to the Kasich for Governor campaign. That is the maximum amount allowed under law.
To support his first Ohio gubernatorial election, the Republican Governors Association gave Kasich a million dollars, thanks to Rupert Murdoch. Kasich showed his dedication to fossil fuels during his administration by strangling a Cleveland-Columbus-Cincinnati rail line and turning down $400 million from the feds.
Kasich's embracing low-tech solutions, pollution and inefficiency is politically motivated. That's why this year, voters should send him a message and go Green. The Greens propose a state investment bank that will target green investments. We are committed to making Ohio the first state where the majority of the energy on the grid is renewable and sustainable.
https://fitrakis.org/wp-content/uploads/2012/10/NeibrhdHous-e1349535401583.jpg
360
480
Fitrakis
https://fitrakis.org/wp-content/uploads/2017/01/fitrakisprocedit_340-3-300x78.png
Fitrakis
2014-07-27 21:41:13
2014-07-27 21:58:16
Back To The Caves With Kasich